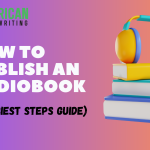 Press The Play Button On The Audio To Listen Complete Article!
Are you ready to turn your book into an audiobook and join the $5 billion podcast market? Also, you can Publish an audiobook easily by following the right direction. The market for audiobooks is growing quickly. In 2020 alone, more than 71,000 eBooks came out.
Listeners love to listen to audiobooks. They make it easier to do more than one thing at once, which is especially important now that so many people are back to traveling.
8 Easy Steps on How to Publish an Audiobook 
Audiobook demand continues to skyrocket, with annual growth rates of nearly 25%. The audiobook services market is expanding, especially for nonfiction books.
You've put in the time and effort to write a book. It's time to take it from the page and into the real world.
Get Your Audiobook's Manuscript Ready:
Before you record your audiobook, you must ensure that the story or manuscript is ready to be read. If you still need to write your book, hire professional book writers. Remember that podcasts depend a lot on the narrator's voice to tell the story, so make sure your text is good for reading out loud. Once your story is done, please review it carefully to find and fix any mistakes or inconsistencies.
Follow the steps to prepare a manuscript for recording:
Go through your work and look for words that could be hard to say. If your manuscript has names or terms that your storyteller might not know, you should write how to say them in the phonetic form right in the manuscript.
For nonfiction, avoid character voices. The narrator's voice is frequently maintained in nonfiction with conversation.
Fiction may require various character voices. Plan to distinguish characters. You can color-code their dialogue.
Prepare Your Space:
This is where your space and equipment come together to set up your studio. Your space comes first and last when you make an audiobook.
After going through all the trouble of soundproofing, you don't want your gear to bring back background noise into your area.
So, the computer should be outside the place, because the noise from the fan would ruin your recording.
Please bring in a monitor, a wireless keyboard, and a wireless mouse to use it.
Next, before you Publish an audiobook, consider that controlling sound isn't just about keeping out sounds you don't want. It's also about ensuring your voice doesn't bounce back into the microphone. Ensure acoustic plates are on the walls to soak up those waves and reduce the echo noise.
Audiobook Production:
Once your story is finished and you've chosen someone to read it, you can start recording your audiobook. Set up a professional recording space with good tools to ensure the sound is clear and crisp. If you're telling your story, read it out loud to improve your performance. If you've hired a professional narrator, work closely with them while they're recording to make sure your book stays true to itself.
After the recording is done, post-production is the next step. It includes fixing any mistakes or background noises in the audio files and improving the sound quality. You can hire an audio engineer or use editing tools to improve your audiobook's sound.
Edit the Audio Files:
Once you're done recording, you'll need to send the files to an audio engineer, who will turn them into the final audio files.
An audio engineer will clean up the sound by removing clicks, pops, mouth noise, and other sounds. They will also ensure the pace is smooth and consistent and that the files meet the requirements for release. You need a sound engineer who has worked on podcasts before.
Finding someone with a lot of experience editing podcasts is the most important thing. Recording is very different from working with music. Creating audiobooks is also very different.
Pick a Platform:
Your next step is to decide which platform(s) or distributor(s) you want to use to share your audiobook.
You can post to individual platforms, but it's more likely that you'll want to use a distributor that will publish your book on multiple retail platforms.
When choosing a publisher, you should consider their reach, whether they can help you reach your target audience, and how they handle royalties.
Audiobook Covers and Metadata:
Like paper books, audiobooks need interesting cover art and useful information. Make a cover for your book that is interesting, fits the topic, and shows what the book is about.
Make sure that the title, author name, and keywords in your metadata correctly describe what your audiobook is about. This will make it easier to find and find out about audiobook services.
Different sites for distributing audiobooks have different needs for their formats. Most of the time, the changes are small, but it is still important to know what they are.
Here are the things you need to know before you Publish an audiobook and your audio needs to have:
It must have only mono files or only stereo files.
It has to have different tracks for the opening and closing credits.
Recordings that use text-to-speech are not allowed.
There can only be one part or section in each file.
Each file can be up to 80 minutes long.
At the beginning of each file, there must be an introduction to a part or chapter.
Between 0.5 and 1 second of silence must be at the beginning of each file, and between 1 and 5 seconds of silence must be at the end of each track.
Each file must be free of sounds like mic pops, mouse clicks, too much mouth noise, and snippets.
The RMS level of each file must be between -23dB and -18 dB.
Each file's peak numbers must be no more than -3dB.
The audiobook file's noise floor must be at least 60dB RMS.
A file must be MP3 with a constant bit rate of 192 kbps (CBR).
Every file needs to be 44.1 kHz.
Each file can be at most 170MB in size.
Set the Right Prices for Audiobooks:
Finding the right way to price your podcast is crucial to its success. Publish an audiobook by researching the market and how similar audiobooks in your field are priced. Consider the cost of making the book, its length, and what your target audience wants. Setting a reasonable price for your audiobook can help you sell more copies and reach more people.
Publish and Market Your Audiobook:
Now that your podcast is done, self-Publish a comic book to get and get the word out. Ensure all the correct information when you upload your audiobook files and metadata to your chosen distribution site. Also, use your online presence, such as your website or social media accounts.
Once your audiobook is out there for everyone to hear, make it a point to talk to your listeners and ask them to leave reviews. Positive reviews can make your audiobook more visible and trustworthy, bringing in new users and boosting sales. Respond to comments and talk to your audience on social media or your website to build a loyal fan base.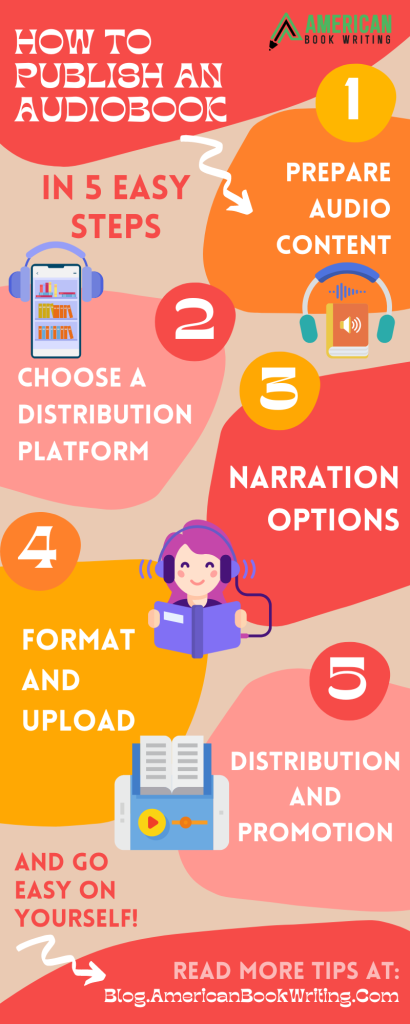 The Benefits of Making Your Book an Audiobook
Audiobook sales are rising. Many writers sell about as many physical books as they do audiobooks. Some topics sell more audiobooks than actual books.
Make Your Book Pay for Itself:
Most people who write nonfiction books don't do it to make money. They make money by getting people to let them in with their books.
An audiobook can help you get more media attention in podcasts and TV, connecting you with possible clients, employers, and sponsors.
Never Run Out of Stock:
Like ebooks, audiobooks are digital goods. Anyone can buy them and download them right away, day or night.
You don't need to worry about whether or not shops will stock your audiobook. Your book will be available everywhere if you use the right publisher.
Expanding Your Audience:
When you publish an audiobook, you can reach a new group of people: people who listen to audiobooks all the time. Many people would rather listen to books than read them, either because they would rather or because they can't. 
Makes a book Fun: 
Audiobooks are good for people who are always on the go, don't like to read, have trouble reading, or are blind or have low vision. Some of the most frequent buyers of audiobooks are keen readers and people who want to keep learning all their lives. They want to read anything and everything.
Conclusion:
Publishing an audiobook is an exciting and always-changing process that combines creativity, technical knowledge, and strategic thinking by focusing on making a unique idea, choosing the right presenter, and producing high-quality audio. 
Embrace the power of this dynamic medium and let your audiobook travel, taking listeners to new places and inspiring them with the magic of storytelling. There are a lot of things you can do with audiobooks, and you can explore them all.