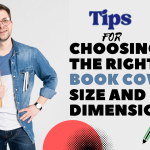 Press The Play Button On The Audio To Listen Complete Article!
If your book's cover is well-designed, you'll be able to attract more readers and sell more copies. Your book's cover is its calling card in a sea of competing titles. 
Color, typeface, and imagery are popular topics of conversation while analyzing a Book Cover Size. Having the right measurements is crucial for book covers. However, it can be confusing to know where to begin due to the wide variety of book cover sizes.
How to Choose the Right Book Cover Size and Dimensions?
After researching common book sizes, there are several factors to consider while deciding on the best measurements for a book's cover. Cover sizes for graphic novels and Wattbooks are different. Several things are worth remembering: 
Word Count:
When picking the size of your book's cover and pages, you should also consider the number of pages and words. A small book would look strange with a great book cover. In the same way, a hardback book with a small cover that is long will look strange and be hard to read. So, pick different sizes based on how long your books are. 
Measurements for E-Readers:
Most of your readers will read books on their e-readers. It's best to know how e-readers are usually sized and how your book cover will look on the screen of one. It will help you decide what size will look best on the screen of your reader. Most e-readers have a 1.33:1 aspect ratio for the size of their screens. This means that there should be 133 pixels of height for every 100 pixels of width.
Standard Pixel Dimensions
Digital platforms often provide standards for pixel dimensions. Most of the time, it's best to have a width of about 1600 pixels and a height that keeps the aspect ratio you want. But it's important to check the platform's exact requirements because they can differ.
JPEG and PNG are common file types for book Cover Size. Most JPEG files are smaller than other file types, so they load faster. On the other hand, PNG files have better quality and can be transparent.
Since e-books can be read on many different devices with different screen sizes, it's important to check how your cover looks on all of them. It ensures that your design looks good and is interesting no matter what gadget is used.
Cover Art Size:
If you are using cover art or a stock picture for your book cover, you need to choose a size that makes the cover art look manageable. The reader should be able to figure out the picture with little trouble. Book cover designers can use free templates, background remover, and magic resizer to resize their cover art to fit the dimensions quickly.
The Kind of Book:
The size of your book will depend on what kind of book you are releasing. The size of a Kindle book cover will differ from that of a comic book cover. The Wattpad cover will differ from that of a book cover. On tools, you can make a free book cover for any book you want to put out. 
Length of Title:
You want the text to stand out on the Book Cover Size. It should be easy for people to read and look interesting. Similarly, to play with fonts and design on your book cover, pick a size that gives your title room to breathe. 
Find the Best Aspect Ratio:
The aspect ratio is the link between the width and height of the cover. It changes how the cover looks on different computers and devices. Think about whether your book will be released mostly online or in print. Digital platforms often need a more landscape-oriented aspect ratio, while paper covers are more square.
Resolution: 
PPI (pixels per inch) is what you'll need to measure the sharpness. It's because you're putting the book on a digital platform. Most print-on-demand sites will only let you upload files that are 2 megabytes.
A book writing company doesn't use resolutions of 300 DPI or more because of this. Remember that the file size will be bigger if the quality is high.
72 DPI is usually the standard in the business world. Also, please don't use anything with a DPI of less than 72 because it might be fuzzy.
Sizes of Print Book Covers:
Knowing how big print book covers are is important if you want to sell a physical book. Here are some tips to keep in mind:
The trim size is the size of the book after it has been cut down to size. It's important to remember the trim size when making your cover so that important parts are not cut off. Also, adding a bleed allows for small changes during the printing and cutting. This ensures that your image goes to the edge without any white space.
When it comes to books with many pages, the width of the spine becomes important. The cover should be wide enough to fit the title, the name of the author, and any other important information. Ensure that the writing on the spine can be read and that it lines up with the other books on the shelf.
Color Mode and Resolution:
It's important to use the right size and color mode to print something that looks good. Most print plates should have a resolution of 300 DPI (dots per inch). Using the CMYK color mode also ensures the colors on the printed cover are correct.
Custom Book Sizes:
Depending on the content and goal of a book, it may need to be a certain size. For example, the size of coffee table books or children's books with pictures is often different. If your book fits this description, you should talk to a professional designer or printing expert to determine the best size for your needs.
Things to Consider Before Choosing the Right Book Cover Size
Genre and Target Audience:
Different books have different standards for how the Book Cover Size should look. Find popular books in your field and examine how their covers are made. Think about what your audience wants and what they expect.
For instance, thrillers and science fiction might look different than romance books. Knowing your book's theme and who will read it lets you choose the right cover size.
Printing and Distribution Options:
Before deciding on your book cover size, consider how it will be printed and sold. Some printing services may have size limits or charge extra for sizes different from the norm.
In the same way, digital websites like Amazon's Kindle Direct Publishing (KDP) may have rules to Copyright a Book about how big a cover should be. Make sure that the size you choose fits the needs of the publishing and distribution outlets you've chosen.
Bookstore Placement:
If you want to sell physical copies of your book in real bookstores, you must consider how much shelf room there is. Your book will be more visible if you choose a Book Cover Size that fits well on normal shelves. Look at the sizes of books in your genre at local shops to better understand what works best.
Calculations of Bleeding, Trimming, And Spine
The book cover is the most important visual part of selling a book, but it's not the only one. Most print-on-demand services will also need you to send the back cover, spine, bleed measures, and front cover.
Trim lines and bleed lines:
Trim lines and bleed lines are two important things you need to know if you want the final product to look professional and how it was meant to look during the design process. Printers aren't always perfect, so if you have a design that goes all the way to the edge of a page (like on a front cover), you risk having a white line around the edge of your design, which would make it look less good.
Trim Line:
The trim size is the final size of the pages or how they will look in a shop. However, to account for these trim lines, keep all important material (text, images, etc.) at least 14 inches (6.35 mm) away from the trim line.
Bleed line: 
The bleed line is the line past which you should stretch all artwork and visual elements of the page to the edges. This line should go past the trim line and be farther from the middle of the page. The general rule is to leave 0.135 inches, or 3 mm, around the image.
Spine:
Ask your printing service or use an online spine width tool to get a good idea of how wide the spine should be. These tools consider the type of paper, the number of pages, and the trim size to give you the right spine width measurement.
The cover of your book needs to have the title, the author's name, and any other design elements. It ensures your book looks good and is easy to find on bookshelves or online lists.
Therefore, when making your book cover, consider the width of the spine. It will ensure that your book's front, back, and spine look professional and go together.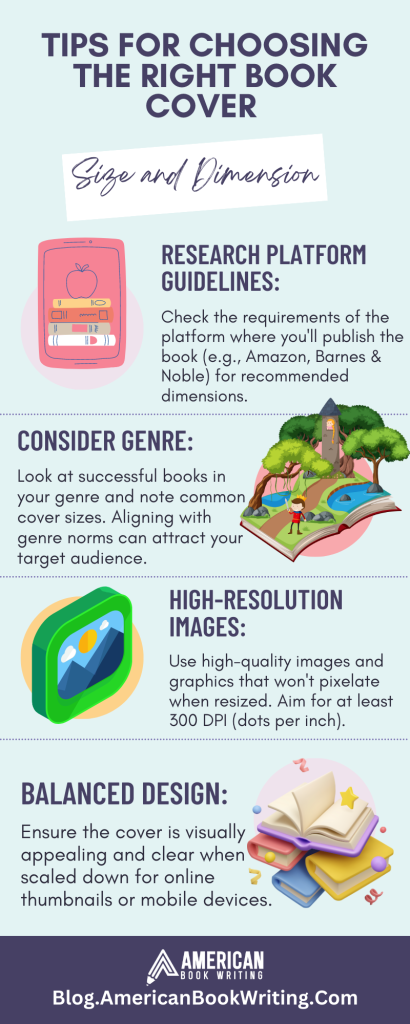 Conclusion:
To choose the right book cover size and dimensions, you must think carefully and pay close attention to the details. Knowing the target group, genre, and platform requirements is important to determine the best dimensions. Finding a mix between creative and practical is important so that the cover stands out and can be used with different mediums.