Press The Play Button On The Audio To Listen Complete Article!
Consistency is king when it comes to digital material, which is always changing. As the online world changes, bloggers, businesses, and individual creators find that keeping a steady stream of high-quality content is both a chance and a challenge. The constant need for material and the fact that digital marketing is always changing make it hard for creators to stay ahead of the curve.
So, how do you find the right mix between quality and quantity without getting too much? This balance can be achieved by exploring strategies like those in how to outsource ebook writing for growth and success, which can be applied to blog writing as well. That's where outsourcing shines. By using outside talent, you can ensure your content is always new, current, and consistent.
Why Has The Need To Outsource Blog Writing Outsourcing Become Popular?
When exporting was just a choice, those days were over. Now, it's something you have to do. The internet world is growing at a very fast rate. Bloggers, businesses, and brands are under a lot of pressure to make content that informs viewers and keeps them interested and coming back for more. With the huge growth of digital, it can be hard for in-house teams to keep up. Outsourcing fills in this gap, allowing for a steady stream of material without overburdening the team working inside the company.
What's Good To Outsource Blog Writing?
Discover the strategic benefits of outsourcing by checking out our comprehensive guide on how to outsource blog writing: 10 choices to consider. Outsourcing has a strategic edge that goes beyond the obvious benefits. You give your content various views by bringing in outside writers with new ideas. This variety can appeal to a wider range of people. It also saves money on training costs. Instead of spending time and money teaching a writer who works in-house about a certain area, you can hire an expert in that field through outsourcing.
Essential Steps for Effective Outsourcing
You don't lose control when you hire someone else to make your content. It means that you are making your team bigger than usual.
Figuring out what you need
Every blog and business has its voice. To outsource blog writing well, you must find writers who match or improve on that style. Make a plan for your content before you look for writers.
What do you want to talk about over the next three months?
How often do you want to post? These questions will help you see more clearly when looking at possible writers.
Looking into Possible Writers
Once you know what you want, the hunt can begin.
But where do you begin?
You can start with sites like Upwork, Freelancer, and ProBlogger. But don't put yourself in a box. The best writers are sometimes found through word-of-mouth or even cold texts. When checking them out, look at how they can change, how quickly they can respond, and how they write.
Now that you may have found the right person, it's time to set the rules. Miscommunication is a big reason why many outsourcing situations go bad. Be honest about what you want. Clear everything up from the start, whether it's the number of changes included, the payment terms, or who owns the content.
Tips for Outsourcing That Go Smoothly 
Even though outsourcing is good, it is a complicated process. Here are some tips that will help you make sure you outsource blog writing that is smooth, satisfying, and stress-free.
Figure out what you need.
Before going out on your own to find a book writing service, think about what you want from a writer and write it down. Is it someone who knows a lot about the business, has a certain writing style, or is good at SEO? A clear idea of what you want will help you sort through candidates and choose the best one.
Talk to each other regularly.
Check in and give updates daily. This ensures you're all on the same page and lets you deal with any differences immediately. Use tools for contact like Slack or Trello to work together better.
Give Feedback That Will Help
If a piece isn't good enough, give feedback that will help the writer improve. Explain what works and what doesn't so the writer knows what to change and do for future tasks.
Both sides should respect deadlines.
Review and give comments on time, just as you expect deliveries on time. Professional relationships get stronger when people respect each other's time.
Spend money on onboarding.
Spend money on onboarding, as effective onboarding processes are detailed in how to build your author brand: 8 key steps to success, which can be adapted for your content team. If you want to work together for a long time, you might want to spend some time on a good onboarding process. This can include training sessions, clear brand standards, and introducing the writer to key team members. It might take some time initially, but it ensures the writer is on the same page with your brand.
Make the most of technology.
Today, there are a lot of tools that can make the process of hiring easier. Editing can be made easier with platforms like Grammarly, and tools like Copyscape can make sure the content is original. Tools for managing projects like Asana and Monday.com can help you keep track of work and due dates. Make the most of technology, similar to strategies in real estate copywriting: 8 tips to write a unique copy, to enhance your content creation and management process.
Set up a clear payment plan.
Talk about and agree on the payment terms ahead of time. Having a clear payment plan, whether it's a per-word rate, a per-article rate, or a monthly retainer, helps avoid disputes. Also, make sure payments are made on time. This shows care for the writer's time and work.
Develop a mindset of working together.
Consider them a partner instead of thinking of the writer as a quick fix. The best content quality and consistent results will come from a relationship where both sides learn and benefit.
Be careful When You Outsource Blog Writing
Each side of a coin is different. When you outsource blog writing, its benefits can also lead to problems that can throw off your content strategy if you don't know how to handle them.
Not Considering How Important Samples Are
Don't let well-written resumes or LinkedIn accounts sway you. Always ask for current pieces of writing. The work, a writer, has done in the past will tell you about their style, tone, and ability to change. You can determine if their voice and style will fit your brand by looking at their samples.
Not making a relationship last for a long time.
If you find cheaper options or have a small problem, it can be tempting to switch writers. But people need to recognize a brand that the voice stays the same. If you change writers often, you risk making your brand's style sound disjointed and confusing your audience. By building a long-term relationship with a writer, you can be sure that they will learn a lot about your brand, leading to better content synergy and better understanding between you.
Putting aside cultural and language differences
It's important to be aware of and accept cultural and linguistic differences, especially when hiring writers from different countries. A common word in one place might not be known or even be wrong in another. Always make sure that the writer knows who your main target group is.
failing to give enough information
Professional writers will study, but they can't know everything about your business or brand unless you tell them. Thinking that a writer knows everything about your niche is a common mistake. Ensure you give them full briefings, answer their questions, and keep the lines of communication open.
Making a long-term commitment without trying things out first can be risky. Set up a trial time, whether it's for one article or a month, to see how good the writer is, how reliable they are, and how well they fit with your brand. This lets both sides know what to expect and make any necessary changes before committing to a longer-term deal.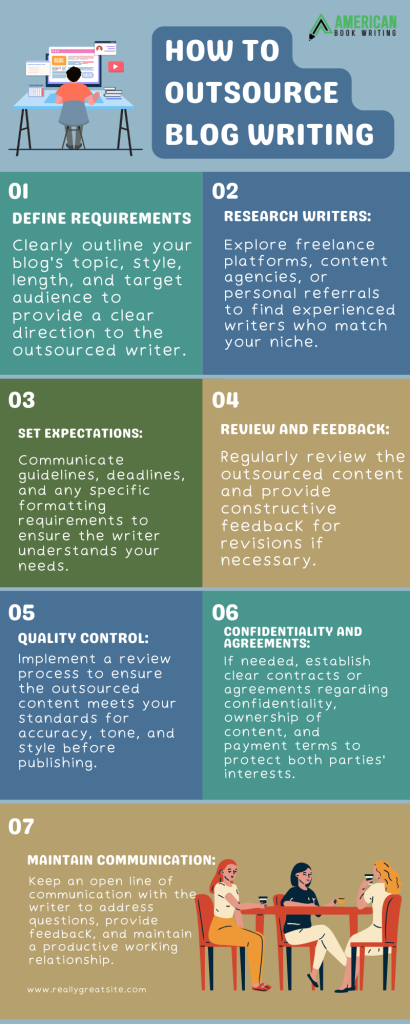 FAQs
Is it expensive to hire someone to write a blog?
Costs can change based on how much expertise is needed and how much work needs to be done. But think of it as an investment in regularity and quality.
How do I ensure the material fits with my brand's voice?
Getting feedback often is important, as is giving brand rules and talking openly.
Can I hire writers who don't live in my country?
Yes. With the help of digital tools, physical borders are becoming less clear.
What if the information isn't what you were hoping for?
Key things are open dialogue and clear feedback. Talk about problems right away.
Can I ask for changes to the information that was given?
Most writers offer changes, but discussing the rules beforehand is important when you hand over content to outsource blog writing.
Conclusion
When you outsource blog writing the right way, it ensures a relationship. It's a partnership that gives your content plan more expertise, variety, and room to grow. As we move through the constantly changing world of digital content in 2023, embracing and mastering the art of outsourcing can make the difference between being a voice that doesn't last and becoming an expert in your niche that lasts. Remember that it doesn't matter who writes it as much as how useful and real it is for your viewers.